Window & Door Replacement
Thin single panes of glass held into an old painted wood frame – energy efficiency = just about zero.
Sitting in the family room watching a movie when your spouse and children ask where the cold breeze is coming from.
Opening and closing windows is an impossible task making them a safety risk and an impossibility to clean.
Every month's heating and cooling bills are budget breakers. Just seeing the bills in the mailbox brings you financial stress.
Replacing your windows is a project you only want to do once, so you want to get it right.
Verge makes the research easy by breaking the process down into 3 parts:
Quality and engineering of the windows themselves. Poorly made vinyl replacement windows are barely better than the old windows you're replacing.
Precision, experience, training, and care of the installers. High quality vinyl replacement windows can perform poorly if the installation is careless.
Putting the finishing touches on the project. Hiring a company which also excels at painting means the interior trim won't be left behind for you to deal with.
Quality and Engineering:
Verge & Associates specializes in installing Simonton Windows. Why? Because every window that Simonton builds is AAMA Gold certified, which means that it has passed stringent tests for air leakage, water infiltration and wind pressure. It's a company founded in 1946 and has earned J.D. Powers "Highest in Customer Satisfaction Award for Windows and Doors" three years in a row. It's windows are custom built specifically for your home and are backed by their "Double-Lifetime Limited Warranty".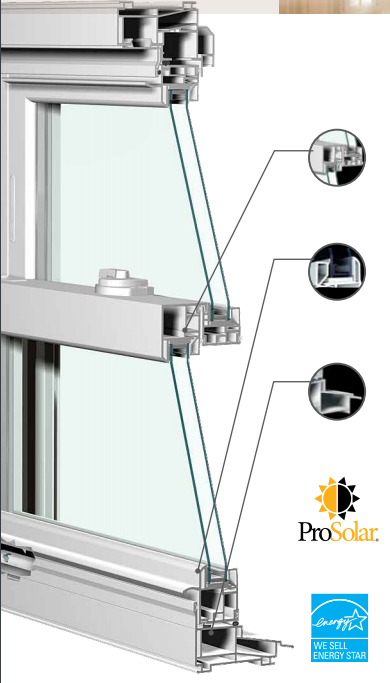 Unparalleled standard features that help keep unwanted weather out:
Lap-Lok meeting rail.
Triple-stepped, sloped Simonton Sill.
Intercept spacer system's U-shaped design.
Fusion-welded one piece frame.
A stainless steel constant force coil spring balance system.
Engineering that makes taking care of windows simple:
Grids located between the two pieces of glass eliminate the need to dust or clean window grids.
Operable sash that tilt and lift out allow you to clean both sides of the window quickly and easily, from inside your home.
Almost no maintenance over time because they don't require regular painting and do not rot, flake, peel or chip like wood windows.
Selecting the ideal window is easy:
Choose your Operating style -A Wide variety of window and door styles provide functional options that are both pretty and smart.
Choose your Style options – Choose from a portfolio of popular exterior colors, interior colors, rich woodgrain laminates and custom hardware finishes, to create a custom style that fits your decor.
Choose your Glass and Grid options – An assortment of energy-efficient glass options allows you to customize your windows to help you achieve the maximum energy savings. And a wide variety of grid options allow you to accentuate your home's architectural style.
Precision, experience, training, and care of the installers:
Just like all the services that Verge provides, we believe in constant and never ending product research and training. Simonton expert product and installation trainers spend time in the Verge office delivering one on one and group education.
We are on the cutting edge of procedures and codes through Simonton University and are a part of Simonton's "Pro Network".
Putting the finishing touches on the project:
Specialization of trades is central to Verge's business system.
Window installers rarely if ever make good painters.
Most replacement windows are installed from the interior of a home. This sometimes requires interior window trim preparation, caulking, priming, and painting to finish the project.
Having painted the interiors of thousands of homes over the past twenty years, it's always startling to see vinyl window replacement projects done by other companies that leave the interior wood surfaces unfinished and unpainted.
Precise window replacement by trained installers followed by crisp clean finish painting is what Verge & Associates considers a professional installation.